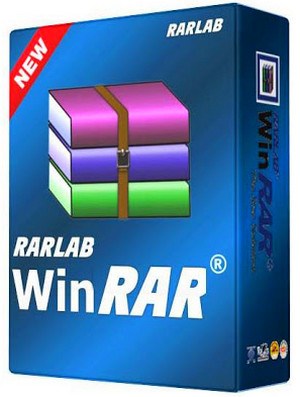 WinRAR uses lossless compression to reduce the amount of storage required store data. By removing redundant data, the amount of space required to store a file is reduced. This reduction can be dramatic, depending on the file. Files cannot be used in a regular fashion when compressed in this manner.
Though primarily thought of as a .rar file extractor, this application works with a range of compression file formats, including .zip files. It can be set as the default application to use with a zip file, if required. It also works with tar.gz, 7zip, iso, and a number of other formats.
This software is an application for compressing data so that it takes up less space on storage mediums. This can be useful for freeing up space by putting files that aren't needed that often into a .rar archive. It is also useful for sending large amounts of data over the Internet.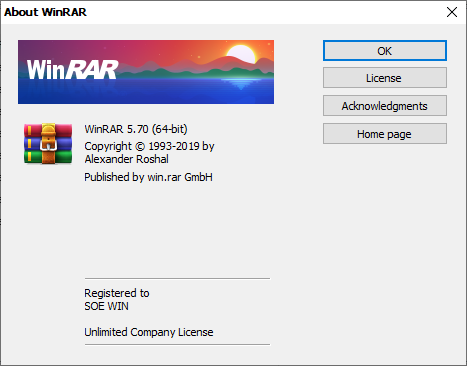 How to activate License Key :

Install winrar-x64-570.exe (64-Bit) or wrar570.exe (32-Bit).
After installation completed , copy rarreg.key.
Paste into WinRAR Installation Directory.
Then , open WinRAR Program.
Go to Help > About.
You will see Unlimited Companay License Activated.
How to activate License Key :[Myanmar]

winrar-x64-570.exe (64-Bit) or wrar570.exe (32-Bit) ကုိ Install ၿပဳလုပ္ပါ။
Install လုပ္လုိ ့ၿပီးသြားရင္ rarreg.key ဖိုင္ကုိ Copy ၿပဳလုပ္ပါ။
WinRAR Program ထည့္သြင္းထားတဲ့ Program Directory ေအာက္ထဲသို ့Paste ၿပဳလုပ္ပါ။
ၿပီးရင္ WinRAR ေဆာ့၀ဲကုိ ဖြင့္ပါ။
Help > About ထဲသို ့သြားပါ။
အဲဒီမွာ Unlimited Companay License ၿဖင့္ Activate ၿပဳလုပ္ၿပီးသားကုိ ေတြ ့ရပါမယ္။