Since version 3.00, four editions of the product exist: Light, Standard, Professional and Ultimate.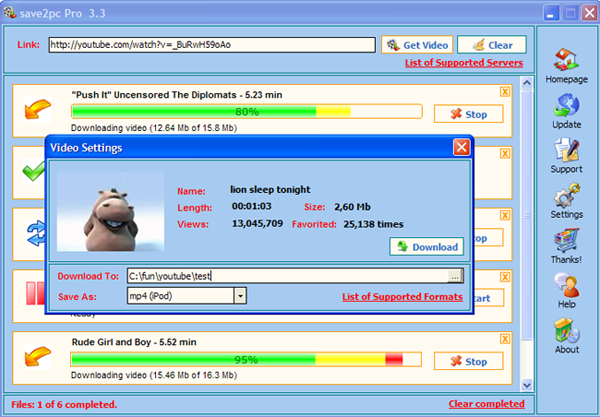 Light: The Light edition is the smallest edition and enables a Microsoft Windows computer to download videos from YouTube and save it as Avi(for Windows) or Mpeg(for DVD players) or Flv(not converted) file to your local computer. This edition is absolutely free, even for commercial use for both personal and commercial use! The user interface is very simple, so you don't need any technical knowledge to use it.
Standard: The Standard edition offers a richer feature set, including an advanced user-friendly graphical user interface and support for more than 10+ video sharing sites. Amongst other features are multiple downloads during one program session, preview capability and direct support for Windows Media Video (WMV) file format.
Professional: The professional edition includes all features of the Standard edition, plus the support for more than 10 additional most popular video sharing sites. With this edition, you can convert downloaded video to watch it on a PC, Laptop, iPod, Sony PSP, Zune, PDA, iPhone, cell phone, Palm, Pocket PC. It also comes with an Adult Pack.
Ultimate: The Ultimate edition is the best edition available, packed with features and benefits. It allows the user to download High-Definition and High-Quality videos and supports for more than 30+ top video sharing sites. Another great feature is an adaptive download accelerator, that will increase the speed of your downloads by 200%. It also comes with an Extra Adult Pack.
Download Save2PC Ultimate Full Version